No ground plane refers to an antenna that does not require a ground plane (with a large metal surface below it) for operation. Non-ground antennas refers to the use of ground or water horizontal transmission antenna.

"No-ground plane" (NGP) antennas with NGP coaxial cables are specially designed to solve problems related to the lack of ground planes (balanced nets). This usually happens on vehicles made of plastic, fiberglass and wood. Including but not limited to motorhomes, boats, cars and 18-wheel trucks. Ground plane problems usually come in the form of high standing wave ratio (SWR) and poor performance.

The isolated ground plane built into the NGP antenna can also eliminate the problem of metal-based vehicles that lack sufficient ground planes for normal operation.
This may be due to the size of the available ground plane (ATV, bicycle, motorcycle, wheelchair, etc.), or because the operator chose to install the antenna in a location where the available ground plane cannot be fully utilized. The versatility of these antennas exceeds the normal intended use of a typical mobile antenna kit.
In addition to vehicle-mounted devices, groundless antennas can also be installed on backpacks for hunting or search and rescue operations.
Apartment residents can install them on balcony railings. Or you can use trees as a tower to build a temporary base station in the forest.
Which NGP antenna suitable for RetevisRT73?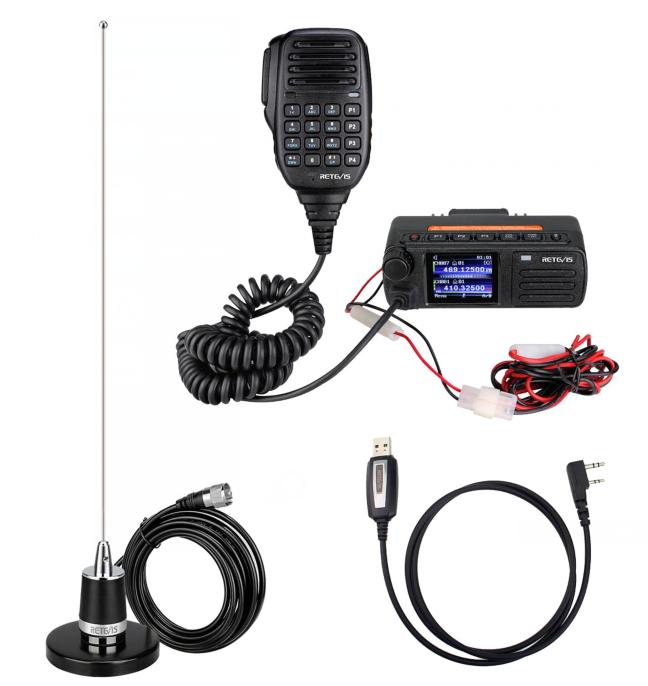 Excellent single-section magnetic antenna designed foremost for cars and vans. Characterized by very good technical parameters - a very large extent, minimal amount of interference and a high quality, strong magnetic base with a diameter of 9 cm.
Equipped with induction coil to increase gain 2.15dB (VHF)/3.5dB (UHF)
Waterproof and anti-corrosion make it more suitable for outdoor
With NMO Connector for Car Antenna
| | |
| --- | --- |
| Brand | Retevis |
| Model | MR200 |
| Color | Silver |
| Frequency | VHF&UHF |
| Max power | 150W |
| V.S.W.R | Less 1.5 |
| Impedance | 50Ω |
| Connector | NMO |
| Gain | 2.15/3.5dBi |
| Length | 51.5mm |
| Vibrator Material | Stainless steel |
| Weight | 765g |