Two days ago, Aaron David, one of Ailunce HD1 owner who said he used it at his fire department. and he shared his experience with us. The Ailunce HD1 was hanging below his jacket in this photo on the right of the picture.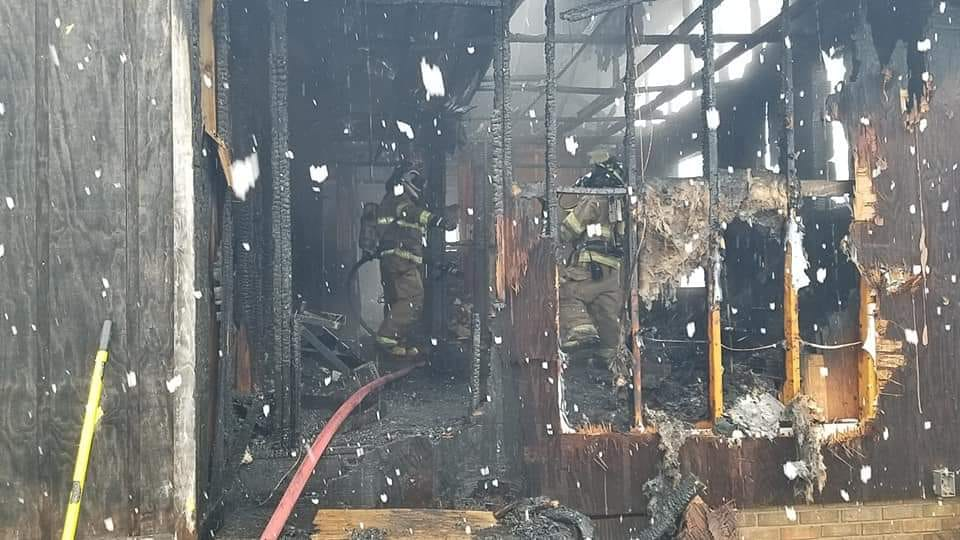 Only a few firefighters in our county use the HD1 as our service radios, but this is a breakdown of why we prefer it and why we will probably be ordering it for more of our firefighters in the future.
Ailunce HD1 can standby on dual channels.
The dual watch feature of the HD1 allows us to use our tactical channel for on-scene operations such as search and rescue, fire suppression, traffic control or talking to on-scene command while still having the ability to hear any information from our dispatchers at the communications center. Since most firefighters will be on our tactical channel as soon as we get on scene we may miss information from our dispatchers, with the HD1 we can operate and hear vital communication from both the emergency personnel on scene and our dispatch center without needing to switch channels or have our radios in a scan mode leaving us unable to transmit.
HD1 is very ruggedness and affordability.
The ruggedness and affordability of the radio leaves me with no concern about carrying it in a fire, I have yet to overheat my radio or have it fail on me even through harsh conditions. My radio has been dropped while running to a fire truck, banged around in chaotic house fires and been hit directly by water from a fire hose by accident and it's still going strong.
Ailunce HD1 comes with high power.
Most handheld radios in the emergency services are only 5 watts, the higher power ratings of the HD1 gives me confidence that even in the most crowded of buildings or worst of conditions my transmission will get outside the building or down the road to our scene command. There have been occasions where other radios can't get through or have static from conditions but the transmissions from the HD1 came through clearly enough to be understood.
Ailunce HD1 is a dual band ananlog and digital DMR radio.
Since the HD1 allows both digital and analog my radio also allows us to monitor and transmit as needed over our county sheriff's tier-2 DMR frequency. This is something very few radios in our county are able to do. Though we do everything to avoid it there have been times when we have needed to utilize it, for example we had to call a helicopter in for a medical rescue and their radio was having issues leaving them unable to use the fire or ems frequencies. This left us with only the sheriff's department frequency, and only a couple of radios in the county able to utilize it. This allowed us to talk directly with the helicopter instead of having to relay messages to our dispatcher allowing for a quicker and safer landing of the helicopter.
Ailunce HD1 has GPS feature get the coordinates.
Our area has an occasional search and rescue of lost hikers or hunters, phone reception and mapping applications are unreliable in our area and only a few of our rescue personnel have handheld GPS systems to take down coordinates. Since we are utilizing the HD1 with GPS capability we are able to note down our location and call it back to our communications center. The communication center can then relay/guide us or others to where personnel is needed.
Easy to find accessories.

The availability and affordability of replacement parts such as clips, antennas and hand microphones allows us to get any replacement parts easily and affordably.
Easy to program, no need to outsource to a radio shop.
The easy use allows us to program radios in house or update programming as necessary without needing to outsource to a radio shop at extra expense
2 tone and emergency alarm need to be add in future.
The only other feature the radio needs to be the best radio for fire/ems would be adding 2 tone decoding/alerting. Sometimes we wish we could just filter out everything and only hear our calls, especially at night when we are going to bed. Two tone decoding and alerting would allow us to not be woken up by calls for other stations. Other brands of radio a better suited in this regard as they will open up to hear dispatch and start beeping to alert you when the programmed tones are detected. Other than this one feature, it is in my opinion the best option available for any fire or ems service to look at.
Welcome to share your HD1 usage scence with us.