If you login Brandmeister website, you should find some repeaters. you should think can I connect to that repeater? and how to set it on your radio? Today, we will take RetevisRT73 as a example to learn how to connect a Brandmeister repeater.
For example, one customer send us a link on Brandmeister say this is the repeater information what he want to use on his RT73.
https://brandmeister.network/?page=repeater&id=220011
We can see this repeater information as below, and in the location map you can check where the repeater is, then you can confirm if it is in your communication range.
What information we can know from this link?
1. The repeater callsign is YU0UBV in Belgrade.
2. It is a MMDVM repeater.
3. they use the Brandmeister Master BM2302.
4. the repeater power is 10W.
5. the repeater frequency downlink 438.2250Mhz, and uplink 430.6250Mhz. shift is -7.6Mhz. the color code is 1.
6. On timeslot 1, you can connect TG220, and on timeslot 2, you can connect TG220010, TG220011.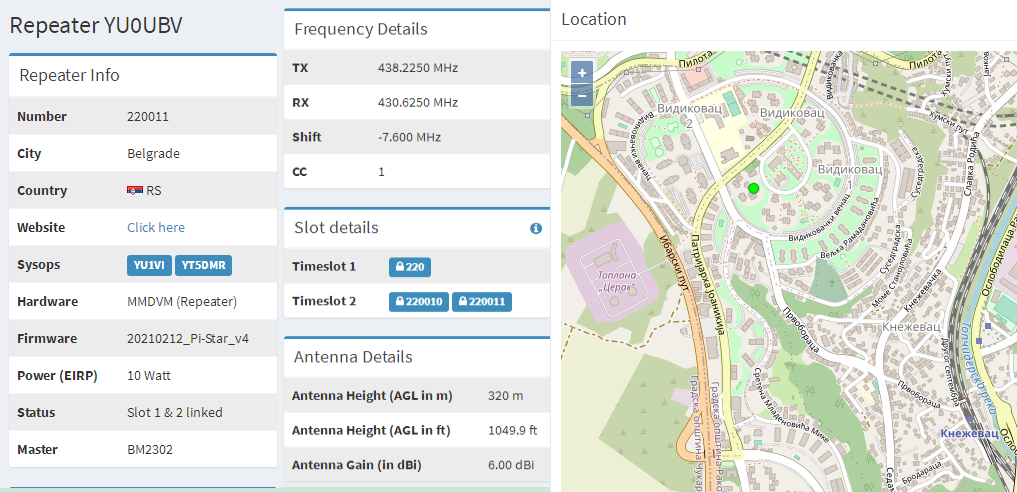 How to add these informations on Retevis RT73?
1. In the software, set your own callsign and DMR ID.

2. Creat group contacts :TG220, TG220010, TG220011 in the contact list.

3. Creat 3 digital channels for this repeater as below picture show. here please make sure select the correct time slot and color code. You can create a RxGroupList for these 3 groups.

4. If you dont want to create 3 channels, you can set a P key "promisuous", then you can only set one channle to receive any talkgroup on this repeater.

5. After finish all the settings, write it to your radio. Then you can begin to transmit and receive singnals from this repeater.
If you have any information about RT73, please contact to email: info@ailunce.com