We may have not played any radios before. when we get the radio first time, what do we need to do?
For example, how to learn the Ailunce HD1 when we get it?
Firstly, let look at the Ailunce hd1 appearance.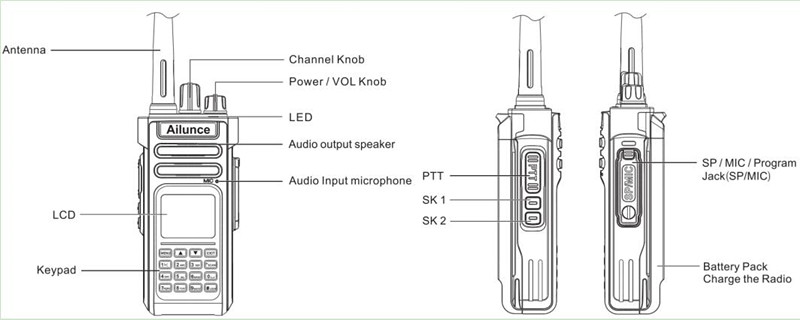 Ailunce HD1 Appearance
Antenna:
HD1 antenna is SMA-F; The range is UHF&VHF (136-174+400-480MHz); Impedance is 50 ohm; there's a long antenna for choice. Besides these, both Nagoya 701 and 771 perform better on HD1.
Channel Knob:
The channel knob is 360-degree rotating. You can use the channel knob to select the channel&user name or ID, group name or ID.
Power/VOL Knob:
Rotate the power knob we can turn on the radio, then we also can rotate the knob to switch the voice.
LED:
It's indicator led. When you press the PTT to transmit, the led will show red. When your radio is receiving, the led will show green.
Audio output speaker:
When your radio receives a signal, the voice will come out from here.
Audio input microphone:
The hole is mic hole, When you press PTT to transmit, your mouth can distance the hole 5-10cm.
LCD:
This is the radio display, it will show some information and data on your radio.
Keypad:
You can operate the radio via the keypad, in the following of the article I will show it more detailed.
PTT:
Press PTT to transmit.
SK1, SK2:
They are side-key, we can define their function.
SP/MIC/Program Jack:
This is the radio interface, we can connect radio accessories, just like speaker mic, earpiece, programming cable, and so on.
Second, when we turn on the radio. the LCD will show some information, what's the meaning of them?
It indicates the functions we have turn on, some icon will not show if you don't turn on. Here is a photo that I turn on all functions and make them almost all shown on the LCD. So you can know what's the meaning of every icon.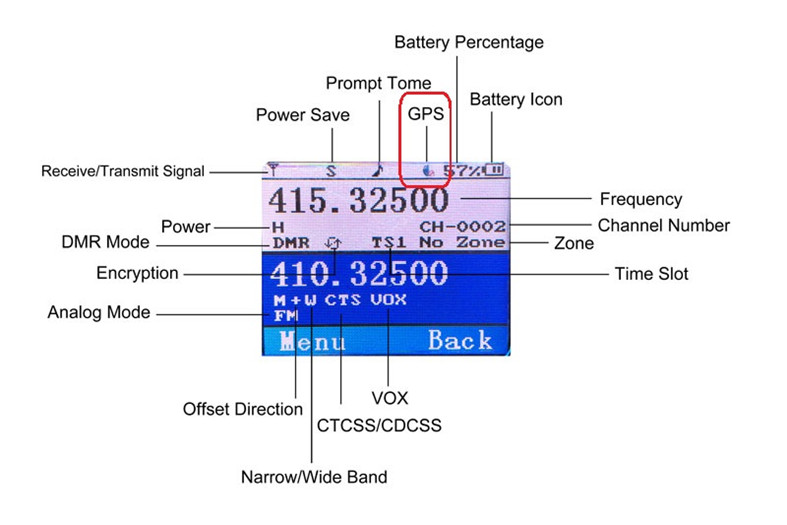 LCD display-HD1-Ailunce
At last, we can learn more about the keypad.
One of HD1 special function is front panel programming(FPP). Under VFO mode, almost all the operations can be done via the front keypad. there some tips for reference. We will use it in future operation.
1. EXIT(red button): Short press=>memory&VFO mode switching; Long press in VFO mode=>FM&DMR switching;
2. *SCAN button:Short press=>main&sub-channel switching;Long press=>Scan Start / Stop;
3. #LOCK button:Short press=>dual/single-channel switching;Long press=>keylock or unlock;
4. Sidekey button 1/2: its setting is free, setting method: Menu=>Main Set=>Key Define
5. Key 1/2 long or short switching is done with the *SCAN; Function selection is done with the arrow keys up/down;
6. Number keys 0~9: In VFO mode, you can edit frequency; In memory mode, the memory locations can be called up based on the memory location number. these are also used for input of letters when editing ID and contacts.
Hope this blog is useful for you. any questions feel free to leave messages to us.