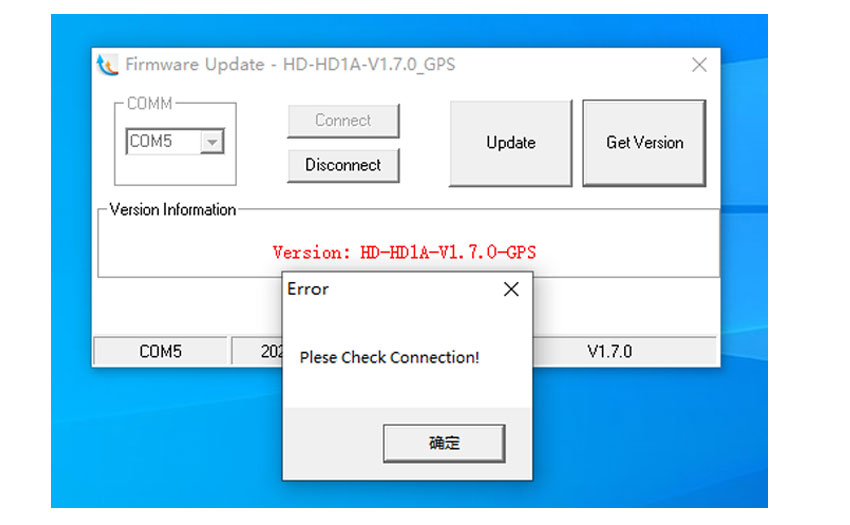 Recently, several HD1 customers report that their HD1 cant talk to their computer after update the latest firmware. Here I need to say again, Normally if the radio cant power on after upgrade the firmware, please recollect all your previous updating operation if there have something wrong during the process.
1. Double confirm upgrade the correct firmware. GPS radio compatible with GPS firmware.
2. Double confirm enter the DFU mode when updating firmware.
Next I have repeated the problem"Please check connection" when upgrade the HD1 latest firmware.
1. First step: Plug the USb cable on the computer firstly.
2. Secondly, Press the upside key+PTT together enter the DFU mode.
3. Choose com port5. "Connect" "Get Version" then "Update" .
4. Get Error"Please check connection.
5. Again Click "Connect", then Click "Update"directly. Get" Please check connection" Error.
How to do?
Turn off the radio. Disconnect the cable from the radio and PC.

Connect the cable with HD1, and then enter the DFU mode, then connect the USB cable to PC.

Open the firmware again. Choose com port, Click" Connect", Update" step by step. It will begin the upgrade process.

Note: Here please pay more attention to the order in which the USB cable is connected to the computer.
---