Digital Mobile Radio (DMR) is an international digital radio standard developed by the European Telecommunications Standards Institute (ETSI), What DMR techniques to provids:
Improved voice quality;

Improved functionality such as Location information;

Improved security (i.e. Authentication and Encryption;

Improved channel efficiency (2 slot TDMA);
And it has 3 different DMR standards: DMR Tier 1, DMR Tier 2, DMR Tier 3. Today we are going to say the difference between DMR Tier 1 and Tier 2.
DMR Tier 1 features:
1.It uses 446 MHz frequency band in Europe and US,licence free band.


2. ETSI specification defines two time slots in 12.5 KHz channels as per TDMA structure.


3. The DMR Tier-1 devices transmit maximum power of 0.5Watt. It mean the power limit to 0.5W.

4. Works in Direct Mode (Radio-to-Radio).

5. Tier 1 DMR devices are best for individuals, recreation, small retail, or other situations that do not require wide area coverage.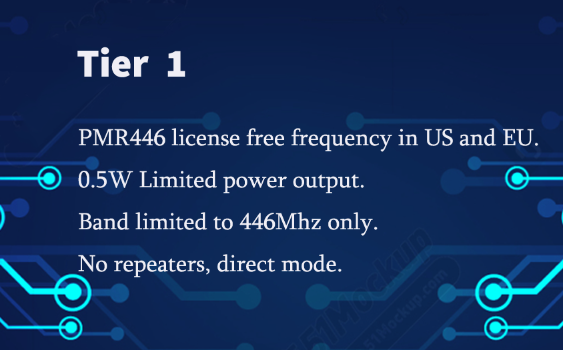 DMR Tier 2 features:
1. It uses 66 to 960 MHz frequency band. License Need.

2. This licenced band is used for mobile phones and conventional radio systems.

3. DMR Tier-2 is direct replacement for analog conventional radio.

4. This mode can use repeater to extend the radio coverage.

5. This mode is used for high power transmission devices.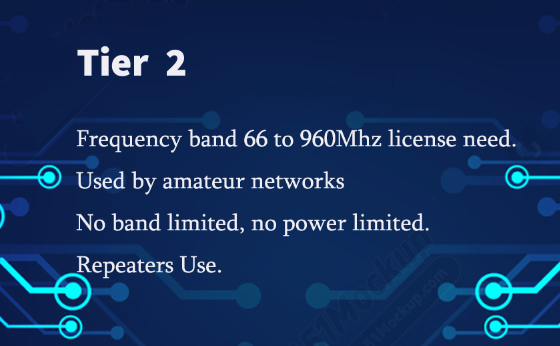 So Tier 1 and Tier 2 radios actually should be able to talk to each other fine if you put them on the same frequency but because tier 1 radios are only able to work on the pmr446 frequencies you have to program your tier 2 radios to work on the same frequencies to be cable to talk to a tier 1 radio.
---