In Retevis radio system, there are many GMRS radios and ham radios, GMRS radio models for example: RetevisRT76P, RB75, RB17A, RB26. Ham radio models for example: Ailunce HD1, Retevis RT3S, Retevis RT82, Retevis RT73; but do you know what is the difference between GMRS and ham radios?
Amateur radio, also known as ham radio, is a hobby enjoyed by over a million people worldwide. Amateur radio operators call themselves "radio hams" or simply "hams."
To operate ham radio require full skills, so ham radio operators to be licensed. Most ham radio handheld is about 5W or less, and mobile radio are usually around 10W to 100W, normally 25W, and the base station usually from 100W to 200Ws. The ham radio operators can use many frequencies as below picture show: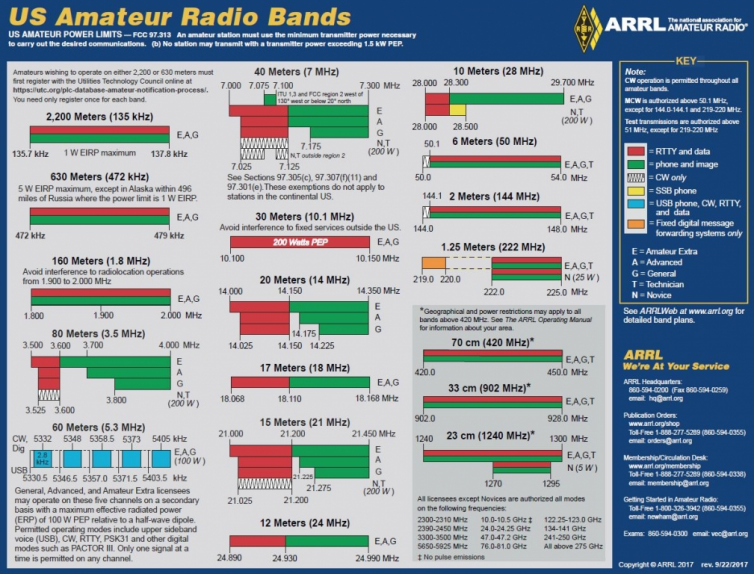 There are many ham radios in the market, the price is from several $50 up to thousand dollars. Equipment not as readily available. and some ham radios need to learn how to operate the radio, for some older hams, it is a little difficult to do it. But as our ham radios, we will provide many user tutorials to reduce the difficulty.
GMRS Radio, General Mobile Radio Service (GMRS) is a 2-way radio designed for short-distance communications. However, you can use repeaters with GMRS to get much longer ranges.The great thing about GMRS is that it is FM. Without getting into technical details, this means that GMRS is much quieter and has better sound quality.There are a total of 15 channels, of which FRS shares 7. A license is required for GMRS, but only one license is needed for the entire family. The Max power of GMRS radio is up to 50W. and the frequency is UHF 70cm band.
| | |
| --- | --- |
| Ham Radio | GMRS Radio |
| Licensed required; | One license covers entire family |
| first to take a exam to get a license. | No test required to get license |
| Some Handheld ham radio range up to 20miles,Mobile and base ranges over 50 miles; | Up to 25-mile range |
| Can communicate with local emergency members, also the hams around the world; | Good sound quality |
| Up to 1500 watts legally; | Not a lot of noise |
| Can use amplifiers; | Can communicate with FRS radios on some channels; |
| Community of HAM operators | |