When connecting your DMR radio to a MMDVM hotspot, If you're experiencing high (greater than 1%) Bit Error Rate (BER) with your radio, you can try reducing it by adjusting the RX Offset.
Why to set RX/TX Offset?
Since most handhelds and mobiles are produced with proper RX and TX modules with proper filtering and the like, they can tolerate some frequency error between different radios and still work just fine. Hotspots, on the other hand, have a transceiver on a single chip and lack the robustness of a full-fledged transceiver.
This leads to issues if the hotspot is off of the handheld or mobile frequency by as little as say 50Hz.
After setting up the MMDVM duplex hotspot board, it is necessary to adjust the transmit and receive offsets in the MMDVMHost expert editor section. Basically this corrects the transmit (TX) and receive (RX) frequency of the board, if they're not on frequency.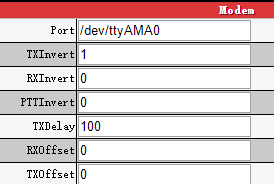 This is the BER 0.4% when no setting RX/TX offset.
How to set Rx/Tx Offset?
In the Expert Editor, adjust the RXOffset setting, make a parrot call, and observe the readings. You're aiming for a BER of less than 1% preferably less the 0.5%.
Begin with +/-100 offsets, and see how that affects the BER.
Once you find the lowest BER with the +/-100-step offsets, repeat the process with +/-50-step offsets, and finally +/-10-step offsets until you find the lowest BER. Repeat this process in each MMDVMHost Configuration Mode in which you're experiencing high BER, until you achieve the optimal BER.
TXOffset and RXOffset do not have to match, in fact, usually, an offset of 0 for the TX is fine, if your radio struggles with is, bring it closer to the RX offset value and see how you get on.
Also every DMR radios may get a different BER when using the same hotspot. If you can't find a good balance for the BER between the different modes, it may be better to use different hotspots for each different mode.

By the way, if you want to create your own DMR hotspot, here we can provide MMDVM single board
Email to info@ailunce.com if you have any questions.