Daily Archives:November 26,2021
There are different types of display screens used on walkie-talkies, such as the segment code screen that can often be seen on Yaesu, the TFT color display that is currently seen on some two way radios, and the dot matrix screen on the entry-level machine Baofeng UV5R. Below we Just learn about the technology of these screens. ...
Read more
Display Technology used on Walkie-Talkies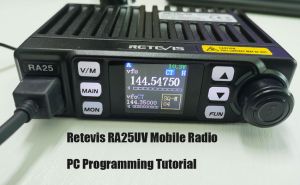 There have two versions of Retevis RA25, GMRS and UV dual band version, as we all known, GMRS is only for US users. Today, let us learn how to program the RA25 UV band mobile radio.  ...
Read more
Retevis RA25 mobile radio