How can I make my radio shows the caller's information?
You need to import the DMR digital contacts to your radio. Many radios on the markets supports this function.
Where can I download the DMR digital contacts?
You can download from Ailunce website. https://www.ailunce.com/ResourceCenter
Current now, it supports Ailunce HD1, Retevis RT3S, RT82, RT90, RT52, RT84.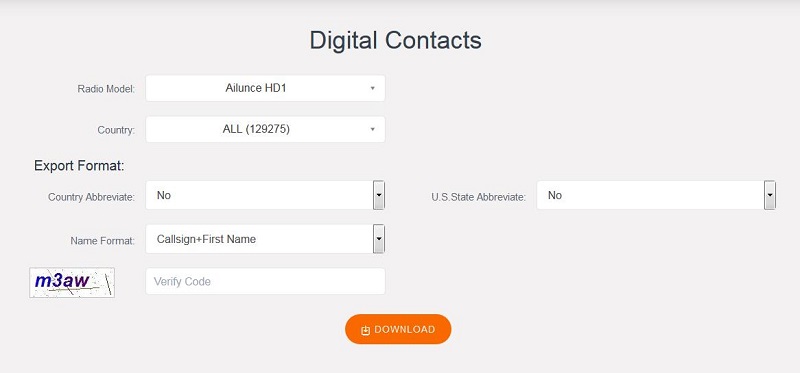 Radio Model: You can select your radio model
Country: All means worldwide, and you also can filter by country. As more and more hams sign up, some radios can't support to save so much contacts. At this time you may need to do some screening.
Country Abbreviate and US State Abbreviate, when you select Yes, The file will show abbreviate. For example, United States will show US, the California will show CA. It can
Name Format. When you select Ailunce HD1, there will be 5 options.(because there is no Callsign column), Other models there will be 2 options.
After select all settings, click the download. the ailunce server will process your requests. and show a page like this. Click the download, you can download the digital contacts.
Here will show your contacts download history during in recent two days.


Here I need to say, be aware of your radio's digital contacts limits. Some radios no longer had hold ALL contacts. You can filter by country before download, or you can delete some after download.
The data used by this site is provided by radioid.net and its worldwide partners. We make no claim of ownership, nor take responsibilty for its use.
If you have any problem, feel free to leave messages.