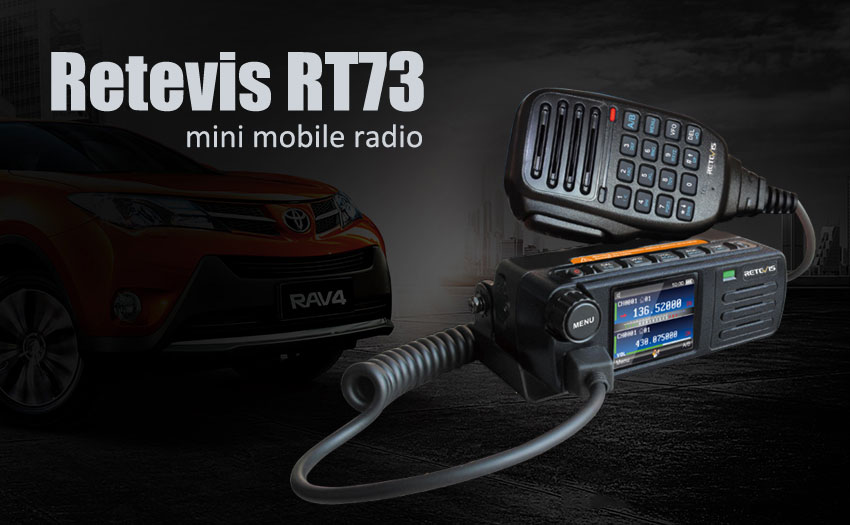 Are you looking for a DMR mobile radio that could easily fit on your vehicle's dashboard. Yes, here it is. Retevis RT73 which is the perfect size you are looking for. It has all the bells and whistles you wanted from frequency range, GPS, build quality and most of all SIZE.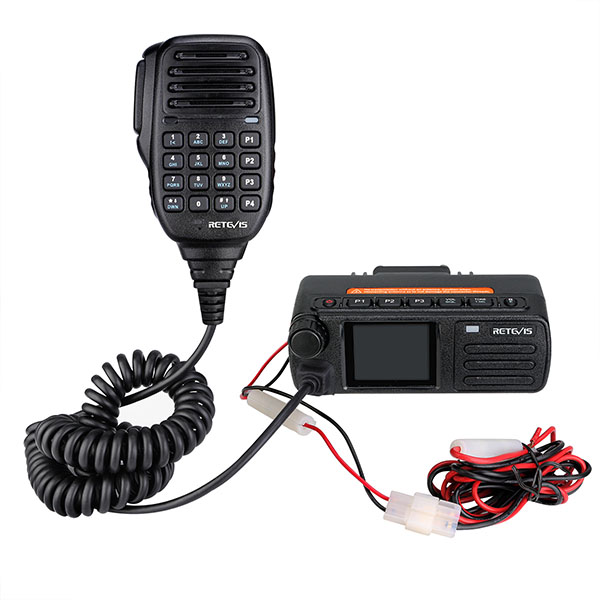 Retevis RT73 is a dual band digital analog mini mobile radio, dual standby, and true time slot. It is capable of all advanced digital technology features.
It utilizes TMDA technology to attain double call capacity on a permitted frequency. Low noise, crystal clear sound, as well as confidential communication from advanced voice encoder technology, greatly improves working efficiency.
Features:
True-2-slot: Provide 2-slot communication which allows on a frequency; comply with MotoTrbo Tier I&II.

To adopt the TFT color display, convenient operation. display interface and visible icon.

6 level screen brightness can be adjusted.

Be capable of definable keys to convenience for accessing common functions.

Support up to 4000 channels to cater to different communication demands.

Support to set menu operation on or off via software to convenient for task and application management.

Excellent voice clarity with digital voice correction technology (AMBE+2TM).It can provide clearer voice quality than analog walkie-talkies in all kinds of use environments.

Ultra-small size, high power up to 20watts.

TDMA 2-time slot technology.

Recording function. Support to record 200 hours.

4000 editable channel capacity.

It has GPS connector back of the radio, and the package comes with a GPS antenna.

Built-in Mic Gain.

Remote monitor.

Roaming Function.

Emergency Function.

FM Radio.

General

Model

RT73

Frequency range

UHF:400-480MHz

VHF:136-174MHz

Channel number

4000 (250 Channels / Zone)

Channel spacing

12.5KHz/25KHZ

Standby current

160mA

Operating temperature range

-20℃~+50℃

The antenna impedance

50Ω

Overall dimensions

121.5*65.5*42.5mm

Rated Voltage

DC-13.8V

Transmitter

Rf power

5-20W

Modulation restriction

±2.5dB@12.5kHz / ±5.0dB@25kHz

FM hum& noise

-40dB@12.5kHz / -45dB@25kHz

Conducted/radiated emission

-36dBm<1GHz / -30dBm>1GHz

Adjacent channel selectivity

-60dB@12.5kHz / -65dB@25kHz

Audio Response

+1~-3dB

Audio Distortion

3%

Emission current

3A

Receiver

Frequency stability

+/-1.5ppm

Analogue sensitivity

0.3μV / 0.25μV

Digital sensitivity(5% BER)

0.25μV / 0.2μV

Inter modulation

65dB

Adjacent channel selectivity

60dB@12.5kHz / 65dB@25kHz

Spurious rejection

65dB

Rated audio

500mw

FM hum &noise

-40dB@12.5kHz / -45dB@25kHz

Audio response

+1~-3dB

Receive current

350-460mA

It will be available in October, any questions, please email to info@ailunce.com
---