There are two ways to set anolog channel. One is setting in software on PC, the other is setting on the radio via the keypad directly.
How to set analog channel in software?
Before programming please download and install the specilized driver and software correctly. please refer to the blog as below.
https://www.ailunce.com/blog/How-solve-ailunce-HD1-driver-issue
Then open the software, click Channel menu to enter the detail setting menu as below.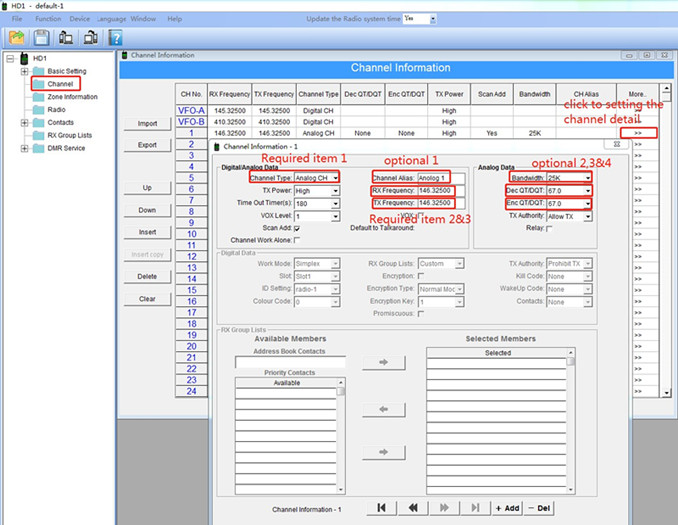 Three required setting items of available analog channel are Channel Type(Analog), RX Frequency, TX Frequency. If the channel have CTCSS and CDCSS, you can set them in Dec and Enc QT/DQT items.

The Bandwidth is W/N selection and optional item. There are 25K(Wide) and 12.5K(Narrow) to select. Wide and narrow-band means the amplitude of intercom voice modulation to the carrier. In broadband mode, the carrier is modulated by a large amplitude. The advantage is good sound quality, but the disadvantage is the bandwidth occupied. In order to increase the number of available channels, narrowband mode can be used.
After the setting items above, the analog channel can be used normally. others are optional setting items, you can set as your need.
How to set analog channel on the radio via the keypad directly?
Turn on your radio and switch to VFO mode as below to begin to set;




Long press the "EXIT" key to switch to analog mode;

Input the RX frequency via the number keypad;

If TX=RX, Menu=>Band A/B Set=>C-CDC/R-CDC/T-CDC, press SCAN to select your need value. Shift Up(OFF);

If TX≒RX, we need to calculate the frequency difference: TX-RX(RX,TX of radio). then Menu=>Band A/B Set=>Shift Up(Plus, Minus)=>Shift Freq, input the frequency via the number keypad;

Menu=>Main Set=>Save CH=>select the blank channel as below to save, input the name via the keypad.

The channel setting is OK. Back to Menu, let's see comparison of standby interface.




Any question please leave a message, or email to us: hams@ailunce.com.

---